The Effect of Logistics Development on Economic Growth: A Comperative Analysis
Buse Barış Katı
İstanbul Üniversitesi, İstanbul, Türkiye
Sultan Kuzu Yıldırım
Dr. Öğr. Üyesi, İstanbul Üniversitesi, İstanbul, Türkiye
Ebru Demirci
Doç. Dr., İstanbul Üniversitesi, İstanbul, Türkiye
Due to rapid economic growth with the help of globalization, countries aiming to step forward competitively are in need of new dynamics. As a consequence of that, the logistics sector holds the opportunity to be distinguished as support for economic growth. Therefore, today's developing countries attach great importance to logistics developments and improvements. Within the scope of this research, variables on BRICS countries and Turkey for the time period from 1999 to 2017 have been determined in consideration of a detailed literature review and analyzed with vector autoregressive (VAR) models. The main hypothesis of this research is that there is a bilateral positive relationship between logistics development and economic growth. In other words, this paper advocates that not only logistics developments support economic growth but also vice-versa.
Keywords: Economic Growth, Logistics Development, VAR Analysis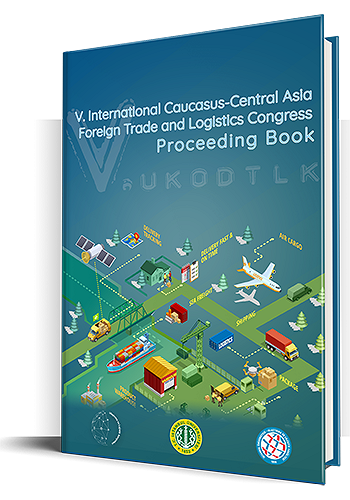 Bu çalışma, kullanan kişilere orjinal çalışmadan alıntı yaptıkları sürece, çalışmayı dağıtma, değiştirme ve üzerine çalışma hakkı tanıyan Attribution 4.0 International (CC BY 4.0) lisansı ile lisanslanmıştır.